Grown Alchemist
Hydra Repair Day Cream: Camellia & Geranium Blossom 100ml
Face Moisturizer
(€519.00 / 1 l)
Prices incl. VAT plus shipping costs
In stock
Delivery within 1–3 Days
Available in Store
Vegan
Less waste
Travel-size
A nourishing and non-greasy face moisturiser that protects the skin against free radicals while maintaining moisture without leaving residual oil or shine on the skin.
Non-greasy – light on the skin and easily absorbed
Silk matte finish
Optimal moisture penetration of the skin
Helps achieve a balanced skin tone
Provides a finer skin texture
Anti-aging effect - protection against premature skin aging
Vegan
Key ingredients: Camellia and Rosehip Oil contain precious Phytosterols which visibly improve hydration and condition the skin. Polysaccharides from Aloe Vera help the skin appear revitalised leaving it feeling smooth and soft. Triglycerides from Jojoba Oil visibly rebalance the skin improving the skins appearance. Cane Sugar releases vital Biosaccharides that noticeably soothe the skin improving its vitality while repairing the appearance of skin damaged by UV induced oxidative stress. Mayblossom releases Flavonoids which help normalise the skins appearance by rebalancing natural sebum levels while also improving the appearance of skin pores.
Scent: A fresh and subtle unisex aroma.
Grown Alchemist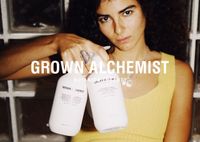 Grown Alchemist is the latest generation of organic skin care from Australia and already the insider tip in the beauty scene. The brand promises beautiful skin thanks to the pure power of nature. Grown Alchemist combines unique formulas with some of the most effective anti-aging plant extracts in soothing balms, serums, elixirs and creams for the face, body and scalp. The products contain certified organic ingredients on a pure plant basis and natural power agents, which provide for a better beauty effect without the addition of harmful artificial chemicals and preservatives ...More
Show more from Grown Alchemist
Grown Alchemist Body Cleanser: Chamomile, Bergamot, Rose – 300ml

Body Wash

Grown Alchemist Brightening Serum: Phyto Complex & Rumex Leaf...

Face Serum

Content

(€2,796.00 * / 1 l)

Grown Alchemist Anti-Frizz – Conditioner 0.5: Behenic Acid C22,...

Hair Conditioner

Grown Alchemist Age-Repair Serum: Peptide-8 & E-2 Polysaccharide

Face Serum

Content

(€3,366.67 * / 1 l)

Grown Alchemist Enzyme Facial Exfoliant: Papain & Amino Complex

Face Scrub

Content

(€838.67 * / 1 l)

Grown Alchemist Hydra-Gel Hand Sanitiser: Tri-Hyaluronan...

Hand Sanitizer

Content

(€278.00 * / 1 l)

Grown Alchemist Regenerating Night Cream: Neuro Peptide &...

Night Cream

Content

(€2,347.50 * / 1 l)

Grown Alchemist Age-Repair Intensive Moisturiser: White Tea,...

Face Moisturizer

Content

(€2,222.50 * / 1 l)

Grown Alchemist Hydra-Repair Intensive Day Cream: Camellia,...

Nightcream

Content

(€1,572.50 * / 1 l)
show all from Grown Alchemist