(€1,980.00 / 1 kg)
Prices incl. VAT plus shipping costs
In stock
Delivery within 1–3 Days
Vegan
Travel-size
Waterproof
This SPF 50+ lip balm protects lips to be ready to kiss at any moment. Enriched with mango butter and vitamin E, it fights dry and chapped lips by moisturizing and keeping them hydrated. The natural, delicate coconut flavor paired with the property of being waterproof makes the balm perfect for sunny adventures by the sea. For the sake of the environment, the lip balm is also vegan and free of oxybenzone, oxinoxate and parabens.
Suitable for: All skin types
To be used as: Lip balm, sun protection
Standard Procedure.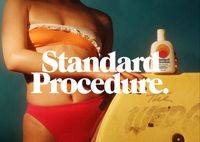 Standard Procedure is the ultimate sun and skin care line for summer feelings. It was developed under the scorching Australian sun to endure even the toughest elements. Inspired by sun-kissed days gone by, Standard Procedure focuses on delivering high-quality, protective sun care products against a backdrop of nostalgic surf explorations along Australia's magical coastlines. Founded by two friends, Dion Agius, a professional surfer who grew up on the beach and in salt water, and Zepha Jackson, the daughter of a longtime sunscreen manufacturer, Standard Procedure combines the knowledge ...More
Show more from Standard Procedure.
show all from Standard Procedure.