An aloe vera-enriched, water-based lubricant made with extracts of persimmon and chamomile. These moisturizing, natural ingredients leave sensitive areas feeling moist and slippery. For a healthy environment and an equally healthy body, the gel is free of harmful substances like parabens, petrochemicals, hormones and palm oil. Whether alone or with a partner, Pleasure Jelly enhances lubricant play.
Suitable for: All skin types
To be used as: Lubricant


Standard Procedure.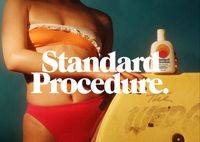 Standard Procedure is the ultimate sun and skin care line for summer feelings. It was developed under the scorching Australian sun to endure even the toughest elements. Inspired by sun-kissed days gone by, Standard Procedure focuses on delivering high-quality, protective sun care products against a backdrop of nostalgic surf explorations along Australia's magical coastlines. Founded by two friends, Dion Agius, a professional surfer who grew up on the beach and in salt water, and Zepha Jackson, the daughter of a longtime sunscreen manufacturer, Standard Procedure combines the knowledge ...More
Show more from Standard Procedure.
show all from Standard Procedure.