P.F. Candle Co.
Alchemy Line: Bergamot Shiso – Soy Candle Standard Size
Scented Candle
A candle perfect for fresh starts, open windows, and invigorating sunrise routines – Bergamot Shiso represents vitality and is designed to stimulate uplifting energy. With notes of pink pepper, mandarin, cypress, and cardamom, this candle was inspired by the exuberance of fruiting citrus trees, and is formulated with upcycled mandarin and cardamom.
The Alchemy Line is a collection of olfactive alchemy candles featuring science-backed blends meant to mimic the healing qualities of nature and positively affect both spirit and atmosphere, intentionally using upcycled and sustainable ingredients. In the most popular size, these candles are perfect for dressers, countertops, nightstands – basically everywhere – with a 40-50 hours burn time.
Top Notes: Pink Pepper, Fresh Bergamot, Italian Citrus
Heart Notes: Leder, Rich Amber, Oud, Cypress, Incense Smoke
Base Notes: Ebony Wood, Shiso Leaf, Virgina Cedar, Musk
P.F. Candle Co.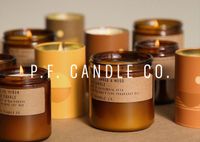 P.F. Candle Co., born Pommes Frites, is a Los Angeles-based fragrance company owned and operated by wife-and-husband team Kristen Pumphrey and Thomas Neuberger. The line is meant to make life smell better through candles, reed diffusers, room sprays, incense, and eau de parfum. The company was founded by Kristen in 2008. She lost her job when the recession hit, and relocated to Austin with the dream of making things by hand to pay the bills. The P.F. Candle Co. signature amber jar line was launched in 2012 after hours spent on the craft fair circuit and another cross-country move ...More
Show more from P.F. Candle Co.
show all from P.F. Candle Co.