(€0.99 / 1 Stk.)
Prices incl. VAT plus shipping costs
In stock
Delivery within 1–3 Days
Available in Store
Vegan
Less waste
Travel-size
Backyard fruit trees, something baking in the oven. A little spicy and just sweet enough.
The charcoal-based incense sticks are hand-made and packaged in kraft sleeves. The transformative smoke uplifts the space while our signature scents linger for hours even after extinguishing. Each kraft package contains 15 sticks, each of which burns for about 1 hour. Depending on the size of the room, the scent longevity will last between 2-4 hours.
Notes: Evergreen, Mission Fig, Spice
P.F. Candle Co.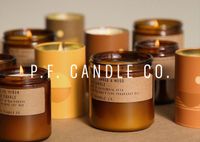 P.F. Candle Co., born Pommes Frites, is a Los Angeles-based fragrance company owned and operated by wife-and-husband team Kristen Pumphrey and Thomas Neuberger. The line is meant to make life smell better through candles, reed diffusers, room sprays, incense, and eau de parfum. The company was founded by Kristen in 2008. She lost her job when the recession hit, and relocated to Austin with the dream of making things by hand to pay the bills. The P.F. Candle Co. signature amber jar line was launched in 2012 after hours spent on the craft fair circuit and another cross-country move ...More
Show more from P.F. Candle Co.
show all from P.F. Candle Co.