8pm – Taking the long way home, the buzz of streetlights, everything washed in shades of blue. Mysterious, dreamy, captivating.
All Sunset Collection Reed Diffuser feature custom-printed glass vessels donned with earth-toned motifs, sun shapes, and horizon lines inspired by the scenes of summer in California. The fragrance blend lasts 4-6 months, is paraben-free, phthalate-free as well as never (ever) tested on animals. Each diffuser includes a bundle of naturally-harvested rattan reeds to absorb and slowly release the fragrance throughout your space.
Notes: Clary Sage, Iris, Palo Santo
P.F. Candle Co.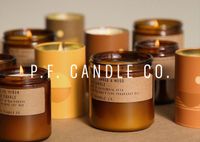 P.F. Candle Co., born Pommes Frites, is a Los Angeles-based fragrance company owned and operated by wife-and-husband team Kristen Pumphrey and Thomas Neuberger. The line is meant to make life smell better through candles, reed diffusers, room sprays, incense, and eau de parfum. The company was founded by Kristen in 2008. She lost her job when the recession hit, and relocated to Austin with the dream of making things by hand to pay the bills. The P.F. Candle Co. signature amber jar line was launched in 2012 after hours spent on the craft fair circuit and another cross-country move ...More
Show more from P.F. Candle Co.
show all from P.F. Candle Co.