Wienerblut
Nord Du Nord – Eau de Parfum – 50ml
Eau de Parfum
This product is currently not available.
Please inform me as soon as the product is available again.
High above the mountain forests, between snow fields and bare rock, the crystal-clear nocturnal sky carries the scent of cold wood and eternal ice. Icy wood and bare rocks. Balsamic. Cold and warm at the same time.
Notes: Peppermint, Ice Water, Rock Moss, Alpine Lichen, Eukalyptus, Fir Needle, Cedar Wood
Wienerblut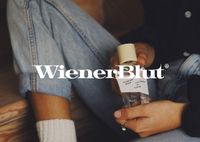 WienerBlut was founded in 2008 in Vienna by Alexander Lauber. Lauber spent much time in antique shops, at flea markets and in the archives of the Hofburg to find and collect information about perfume from Vienna at the time of K.u.K. Reich and also acquired, among other things, old cosmetics sets owned by the Habsburg family. WienerBlut believes that great fragrances are like treasured secrets, giving the most pleasure to those who carry them. The formulas are built to whisper, not to shout. Listen carefully to the stories they tell. They love the complexity of natural raw materials ...More
Show more from Wienerblut
show all from Wienerblut