CRA-YON
Sand Service – Eau de Parfum – 50ml
Eau de Parfum
This product is currently not available.
Please inform me as soon as the product is available again.
A green, crisp, woody fragrance that takes you on an olfactory journey. The top note reveals an extraordinary combination of sweet-woodsy violet and spicy-warm cardamom. Iris gives the fragrance its floral, green note, which is kept warm and subtle by papyrus. An arrangement of leather, cedar and sandalwood in the base gives the fragrance a complex and invigorating aura - crispy-green and woodsy-warm at the same time. The precious ingredients from all over the world make this perfume the ultimate feel-good accessory.
Top Notes: Violet leaf, Cardamom
Heart Notes: Orris, Papyrus
Base Notes: Amber, Leather, Cedarwood, Sandalwood
CRA-YON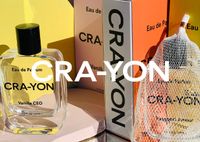 CRA-YON is a perfume brand from Sweden that wants to wake up all the sleeping noses of the world and inspire all to discover the difference between a good and a great perfume. The team behind CRA-YON has been creating award winning perfumes for over 12 years in the luxury perfume business and now, with extensive experience, they are looking to modernise the quality perfumery. According to them, a great perfume is not about a celebrity face or the one who made it, but rather about how it triggers your memories and your wellbeing when worn. The sense of smell is our most powerful sense ...More
show all from CRA-YON