Frama
Shampoo – 375ml
Hair Shampoo
This product is currently not available.
Please inform me as soon as the product is available again.
The unisex Frama - Shampoo is made in Denmark and reflects the characteristic Frama fragrance of the Apothecary-Collection. The natural shampoo offers a nourishing and refreshing cleaning, which naturally hydrates and softens the hair.
Fig Extract nourishes the scalp by peeling the scalp and storing moisture
Flaxseed Oil makes the hair supple and strengthens the hair structure
Plant Based Glycerine provides lasting moisture to the hair
Scent: Sandalwood, Cedarwood and Ylang Ylang.
Frama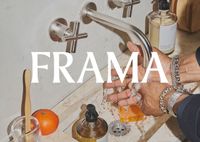 Frama is a multidisciplinary design brand based in Copenhagen. Their aim is to create lifestyle objects that inspire the sense and facilitate a mindful life. They want to achieve all this with natural materials, simple geometries and uncompromising quality. Their result - a work that combines the imaginative with the practical, creating a unique warm and honest aesthetic. Since 2011, Frama has been pursuing an expanded design approach; an approach that is equally inspired by old and new, digital technologies and analogue traditions ...More
show all from Frama