A lightweight styling wax that gives hair a natural look with strong hold.
Medium to strong hold with matte finish
No added extra volume
Waterbased - easily washes out
Non greasy or sticky
Perfect for thicker hair types
Especially good for medium to longer hair
Suitable for sensitive hair and scalp
Key ingredients: Beeswax gives hair natural texture and hold, lets hair appear stronger and thicker and assists in preventing split ends. Argan Oil has nourishing properties, is rich in Vitamin E, Omega 3, 6 and 9, provides moisture for the hair and scalp and supports healthy growth of the hair. Kawakawa Oil, has anti-bacterial properties and relaxes and soothes the scalp.
Scent: T&D calls it "Santa Monica" - a natural light scent of Ho Wood Bark, Orange Rinde and Pine Needle.
Triumph & Disaster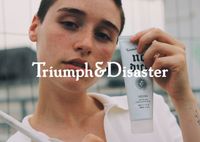 Triumph & Disaster aus Neuseeland ist eine moderne Apotheke und Hautpflege-Manufaktur, deren Produkte sich an den Säulen Ritual, Charakter und Schicksal orientieren. Gründer ist Dion Nash, ein ehemaliger Cricket-Profi, der die Marke nach dem Gedicht "IF" von Rudyard Kipling benannte, das er als Kind von seinem Vater bekam. Jedes Produkt hat einen maßgeschneiderten, natürlichen Duft, der an frühere Werte aus alten Zeiten erinnert. Die Philosophie ist es, effektive, sichere und nachhaltige Produkte mit Hilfe modernster Wissenschaft und den besten natürlichen Wirkstoffen zu ...Mehr
Show more from Triumph & Disaster
show all from Triumph & Disaster