Mádara
Skin Equal Foundation – Sand 40
Foundation
This product is currently not available.
Please inform me as soon as the product is available again.
This vegan, air-light and natural certified foundation is based on a liquid formulation that guarantees medium to full coverage and gives the skin a soft glow. The formulation and color match the natural tone and texture of the skin, ensuring comfort and the feeling of naturally beautiful skin throughout the day. With its softly luminous texture, the foundation provides a natural-looking, even complexion with a radiant, dewy finish. With antioxidant-rich blueberry and peony root extracts, multi-molecular hyaluronic acid, vitamins C and E, and mineral UV filters, this vegan foundation delivers extra care, moisture, and protection for healthy skin even without makeup. The lasting formulation is easy to apply and blend, creating the perfect canvas for all subsequent makeup layers.
Suitable for: All skin types
Color: For light to medium skin with warm, slightly golden undertones
Finish: Naturally luminous, dewy
Mádara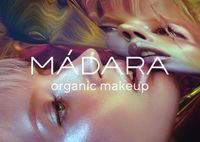 Mádara ist eine Naturkosmetikmarke aus Lettland, die 2006 von vier ambitionierten Frauen gegründet worden ist. Paula, Zane, Lotte und Liene, die Gründerinnen, setzen auf die Kraft der dort heimischen Pflanzen und verfolgen bis heute noch immer ihr Ziel kompromisslose Hautpflege zu entwickeln, die auf 3 Grundsteinen basiert – biologische Inhaltsstoffe, Innovation und Nachhaltigkeit. Ihre Rezepturen basieren auf Jahrhunderte altem, überliefertem Wissen über nordische Heilpflanzen, die nun in Zusammenarbeit mit Ärzten erforscht werden um ihre Heilkraft bis in jede Wurzel ausschöpfen zu können ...Mehr
show all from Mádara