nuud
Smarter Pack
Deodorant Cream
(€647.50 / 1 l)
Prices incl. VAT plus shipping costs
In stock
Delivery within 1–3 Days
Available in Store
Vegan
Less waste
Travel-size
Smarter Pack by Nuud contains two 20ml tube of vegan, environmentally friendly and skin-friendly deodorant cream, which has an antiperspirant effect. This infamous deodorant is free of aluminium, fragrances, parabens, alcohol, microplastic or nanoparticles, while being produced sustainably and packaged in a recyclable bioplastic sugarcane tube – making it perfect for anyone wanting to make a more conscious decision. The deodorant cream works exceptionally long with its 3-7 days and withstands sports, showers and other activities. Reformulated from its original recipe, it now allows for more dispersible, lighter and more breathable nuud. Still just as effective, but not as greasy. It is absorbed more quickly, so you feel ready for the day even faster.
Through its most important ingredient, microsilver, the deodorant cream has an antibacterial and anti-inflammatory effect. Furthermore, the microsilver prevents the bacteria from decomposing fatty acids into sweat and thus the unpleasant sweat smell is not formed at all. The remaining ingredients, such as oils, zinc oxide and clay, ensure that it is nourishing and easy to use.
Whether you have hairy, smooth, sensitive, pubescent, sweaty, demanding or sporty armpits ... nuud is here to make you happy again. Fresh armpits worldwide!
Suitable for: All skin and hair types, even sensitive skin
To be used as: Deodorant
nuud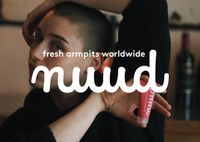 nuud is a young label from Utrecht in the Netherlands that lives and represent fresh armpits, like a garden party at the North Pole. They developed an anti-odorant that works effectively for 3-7 days without aluminium, salts or perfume, parabens, petrochemicals or other chemicals. nuud is produced in such a way that it harms our earth, our health and the world around us as little as possible, so they did without propellants, spray bottles and thus developed a completely vegan and plastic-free deodorant cream.
show all from nuud