Bivouak
Organic Body Soap
Hand & Body Soap Bar
(€129.00 / 1 kg)
Prices incl. VAT plus shipping costs
In stock
Delivery within 1–3 Days
Available in Store
Vegan
Less waste
Travel-size
A gentle hand and body soap bar that deeply purifies pores and removes dirt without drying out skin.
Deep clean while also naturally and gently exfoliating
Delicately removes dirt and absorbs excess oils and detoxifies
Cleanses pores from bacteria and unwanted dead skin cells
Helps fight against acne and tones skin
Preserves moisture in the skin
Vegan
Key ingredients: Activated Charcoal works like a super-magnet by drawing out impurities of pores. Coconut Oil cleanses and moisturises skin very gently. Shea Butter makes skin softer while Sesame Seeds Oil provides highly effective hydration, nourishment and vitamins and gives a healthy look and feel.
Scent: A fresh, woody aroma.
Bivouak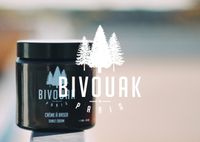 Nachdem er seine Karriere in der Internet-Branche begonnen hatte, entschied Corentin Letort sich seinem Bivouak-Projekt zu widmen und ein 28-jähriger Unternehmer zu werden. Begeistert von der Natur, stellt er sich vor Hautpflege-Produkte mit biologischer Qualität für selbstbewusste Männer zu entwickeln. Im Jahr 2015 gegründet ist Bivouak eine Bio-Kosmetikmarke, die gepflegten, aktiven Männern gewidmet ist. Die von der Natur inspirierten Produkte werden in einer kleinen Werkstatt in Vierzon (Zentrum von Frankreich) dank der Kompetenz und Handwerkskunst ihrer Arbeiter handgefertigt ...Mehr
show all from Bivouak