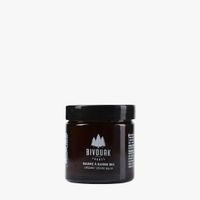 Bivouak
Organic Beard Balm
Beard Balm
A luxurious beard balm that soothes the beard and provides light hold.
Nurtures the hair root
Strengthens and protects the beard hair
Provides a well-groomed, natural beard form
Lends visible structure especially to longer or very frizzy beards
Key ingredients: Castor Oil, Argan Oil and Sesame Seed Oil moisturise and soften the beard. Beeswax and Shea Butter, provides texture and hold for your beard, and allow easy styling without all the greasiness.
Scent: A fresh, woody aroma.
Bivouak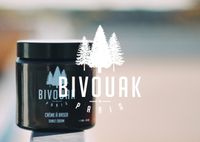 Nachdem er seine Karriere in der Internet-Branche begonnen hatte, entschied Corentin Letort sich seinem Bivouak-Projekt zu widmen und ein 28-jähriger Unternehmer zu werden. Begeistert von der Natur, stellt er sich vor Hautpflege-Produkte mit biologischer Qualität für selbstbewusste Männer zu entwickeln. Im Jahr 2015 gegründet ist Bivouak eine Bio-Kosmetikmarke, die gepflegten, aktiven Männern gewidmet ist. Die von der Natur inspirierten Produkte werden in einer kleinen Werkstatt in Vierzon (Zentrum von Frankreich) dank der Kompetenz und Handwerkskunst ihrer Arbeiter handgefertigt ...Mehr
show all from Bivouak