A natural face scrub that exfoliates and leaves wonderfully soft and supple skin.
Removes the build-up of unwanted dead skin and dirt
Antibacterial and preventive regarding breakouts and blackheads
Likewise a detoxifying and stimulating face mask
Perfect preparation for a smooth shave
Vegan
Key ingredients: Volcanic Ash, Kaolin and Green Clay function as natural abrasive, are rich in iron, magnesium and potassium, gently draw out impurities, provide deep exfoliation and clean your pores.
Scent: An essential oil blend of Cedar, Patchouli, Pine, Eucalyptus, Pepper, Peru, Bergamont, Lavender, Sandalwood & Jasmine. A smokey and woody aroma with slight notes of tobacco.
Triumph & Disaster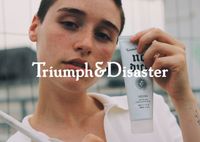 Triumph & Disaster aus Neuseeland ist eine moderne Apotheke und Hautpflege-Manufaktur, deren Produkte sich an den Säulen Ritual, Charakter und Schicksal orientieren. Gründer ist Dion Nash, ein ehemaliger Cricket-Profi, der die Marke nach dem Gedicht "IF" von Rudyard Kipling benannte, das er als Kind von seinem Vater bekam. Jedes Produkt hat einen maßgeschneiderten, natürlichen Duft, der an frühere Werte aus alten Zeiten erinnert. Die Philosophie ist es, effektive, sichere und nachhaltige Produkte mit Hilfe modernster Wissenschaft und den besten natürlichen Wirkstoffen zu ...Mehr
Show more from Triumph & Disaster
show all from Triumph & Disaster