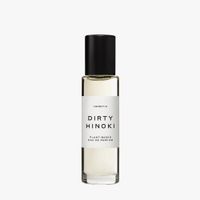 This product is currently not available.
Please inform me as soon as the product is available again.
This Japanese 'forest bath' in a bottle blends grounding hinoki wood with crushed herbs and holy resins to create an earthy and ethereal plant-based scent. An evening walk through a crisp fragrant forest of aromatic and dry cypress with the otherworldly and infamously calming hinoki warmed by the sun and the dry summer air. Top notes of lemon, thyme and nutmeg create a smooth, citrusy and herbal opening, accompanied by soft cedar and sweet, aromatic pine. It develops to reveal the earthy, dry and spicy facets of reassuring sacred resins and balsams that then blend with the evergreen and warm woods, displaying a refined, elegant and calming strength.
Top Notes: Lemon, Cedar, Nutmeg, Thyme, Pine
Heart Notes: Hinoki, Cypress
Base Notes: Elemi, Wormwood, Fir Absolute, Ambrettolide, Balsam, Frankincense
Show more from Heretic Parfum
show all from Heretic Parfum