Selahatin
Mouthwash 200ml – Escapist
Mouthwash
This innovative mouthwash complements and optimizes the benefits of Selahatin´s toothpaste. As it combines conventional skin care with innovative natural ingredients, this mouthwash provides the entire oral area with a regenerative routine, hydrating, inhibiting bad breath, protecting sensitive teeth and counteracting dry-mouth – all in a sleek, modern glass bottle. Aloe vera and chamomile act soothing and healing, while vitamin E strengthens and protects skin, and sodium citrate inhibits bad breath and strengthens the teeth´s protective shield.
An unconventional blend that solidifies the brand's vision to integrate fantasy and reality. Selahatin's leading aroma Escapist takes on a new shape when translated into a mouthwash. The orange further blossoms, becoming pulpier and fruitier, while lush cinnamon teeters between warm and cool on icy and refreshing peppermint.
There is also a matching toothpaste and mouthspray/oral-perfume in this flavour.
Notes: Bitter Orange, Grapefruit, Almond, Cinnamon, Orange, Peppermint
Suitable for: All skin types
To be used as: Mouthwash
Selahatin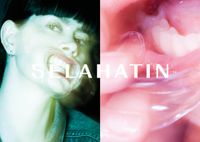 Founded 2016 by Kristoffer Vural, Selahatin was born from a crisis. Before the age of 30, he suffered a stroke that left him paralysed and hospitalized for a year. The stroke made his senses more responsive to scent and taste, while also highlighting the importance of everyday rituals. It made him realize that the small things in life had a profound effect on his wellbeing which in turn made him desperate for products which he could emotionally connect with, and provide him a sense of escapism. And born was Selahatin – the future of oral luxury...more
show all from Selahatin