Selahatin
Whitening Toothpaste 65ml – Escapist
Toothpaste
(€336.92 / 1 l)
Prices incl. VAT plus shipping costs
In stock
Delivery within 1–3 Days
Available in Store
Vegan
Less waste
Travel-size
Refine your daily oral hygiene routine with Selahatin´s luxurious aroma range of vegan whitening toothpaste, made to escape reality, forget about all the everyday stressors for just a moment, and be taken away to a magical fantasy place. This toothpaste helps preserve the natural whiteness of your teeth with four different whitening agents, while still being gentle and enough for daily use. Betaine relieves dry mouth and an extract of the antioxidant-rich edelweiss has a regenerating effect on the gums. Vetted by The Swedish Dental Association and containing 1100 ppm sodium fluoride, this toothpaste will leave your teeth pearly white and healthy.
Reality is the state of things as they exist, fantasy is an idealistic notion of them – Escapist represents a more perfect union between the ordinary and the extraordinary. It blends delicate but vivid cinnamon with lush almond, opulent grapefruit, pulpy bitter orange and sun-kissed oranges with wintergreen peppermint.
There is also a matching toothpaste and mouthwash in this flavour.
Notes: Bitter Orange, Grapefruit, Almond, Cinnamon, Orange, Peppermint
Suitable for: We do not recommend using whitening toothpaste on children under 12 years old
To be used as: Whitening toothpaste
Selahatin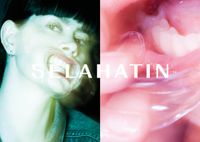 Founded 2016 by Kristoffer Vural, Selahatin was born from a crisis. Before the age of 30, he suffered a stroke that left him paralysed and hospitalized for a year. The stroke made his senses more responsive to scent and taste, while also highlighting the importance of everyday rituals. It made him realize that the small things in life had a profound effect on his wellbeing which in turn made him desperate for products which he could emotionally connect with, and provide him a sense of escapism. And born was Selahatin – the future of oral luxury...more
show all from Selahatin