Merme Berlin
Facial Balancing Elixir – 100% Organic Jojoba Oil
Face Oil
(€1,063.33 / 1 l)
Prices incl. VAT plus shipping costs
In stock
Delivery within 1–3 Days
Available in Store
Vegan
Less waste
Travel-size
PROMO
Purchase Merme products for 50 euros or more and select a free Facial Antioxidant Mist during checkout.*
*As long as supply lasts and it is visible during checkout.
This cold pressed jojoba oil is rich in vitamin B and E, antioxidants and minerals, which work to nourish, protect and heal the skin from external toxins. Jojoba oil helps control and regulate the skin's natural production of sebum, making it a perfect solution for oily skin types. Thanks to its antibacterial, healing and non-comedogenic properties it aids in balancing oily and breakout prone skin and reduces acne scarring, while also forming a natural protective barrier from outside pollutants. Its antimicrobial benefits help support skin conditions such as eczema and psoriasis.
Suitable for: All skin types, especially oily and combination skin
To be used as: Anti-inflammatory, balancing facial oil
Merme Berlin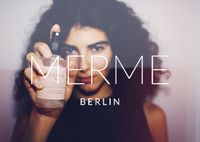 In 2016, Australian-born Claire Ralston launched MERME Berlin out of her passion for Clean Skincare, which arose during her studies at the Australian College of Natural Beauty. There she was particularly interested in the effectiveness of non-invasive and natural beauty methods. When she moved to Berlin in 2014, she couldn't find good, organic skincare that gave her the healthy glow she wanted. So she started sourcing the good ingredients herself - MERME was born. Merme was Claire's grandmother's name, who lived on a cattle farm in northern New South Wales, Australia ...More
Show more from Merme Berlin
show all from Merme Berlin