SPF 30 Mineral Sunscreen Lotion by Salt & Stone is a face and body mineral sunscreen rich in antioxidants that moisturizes, reflects UVA and UVB radiation, preventing premature aging and promoting a healthier, younger-looking skin. The cream also soothes red, irritated skin, has a non greasy texture applies easily and covers evenly, leaving no visible white residue.
Non-Nano Zinc Oxide protects against harmful sun's rays, premature skin aging and skin cancer, doesn´t absorb into the skin and doesn´t irritate.
Hyaluronic Acid naturally cushions the skin and improves its appearance.
Rosehip Seed Oil moisturizes the skin with nourishing fatty acids.
Avocado Oil has extraordinary skin penetration abilities and can nourish different skin layers.
Water Resistant (80 Min), Broad Spectrum, Reef Safe
Scent: A slight aroma of Vanilla.
Salt & Stone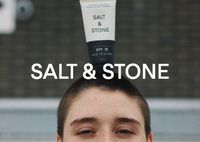 Salt & Stone creates essential skincare products, developed especially for all who are called to explore, escape, and revel in their experiences. The brand never compromises, and uses only the finest plant-based, natural, non-toxic, and antioxidant rich ingredients. The result is a superior collection of products that optimize your body and enhance your daily journey.
Show more from Salt & Stone
show all from Salt & Stone