This product is currently not available.
Please inform me as soon as the product is available again.
This fragrance represents a stunning white under a dazzling sun. Soft coconut milk nestles against the body and combined with tuberose exudes an unusually attractive aura. Gardenia adds some freshness with its occasionally green character, while vanilla narcotizes. During the day, the fragrance is reminiscent of that of a tanned, sun-drenched body: intensely sensual and seductive. Once night falls, it evokes a warm summer evening around a gaming table in an elegant evening dress.
Top Notes: Coconut
Heart Notes: Gardenia, Tuberose
Base Notes: Vanilla
Voyages Imaginaires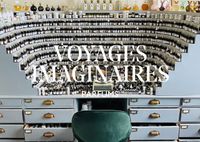 Camille Goutal, a photographer, and Isabelle Doyen, a renowned perfumer, knew each other years before embarking on their joint adventure. Several years of collaboration in perfumery and a shared passion for natural materials led the two women to create their own joint brand in 2020 - Voyages Imaginaires.
A brand that aspires to itself to produce 100% natural perfumes based on organic wheat alcohol, to sublimate them to abstraction in fine and unique creations. Travels, real as well as imaginary, serve as inspiration for these haute couture creations ...More
Show more from Voyages Imaginaires
show all from Voyages Imaginaires