A salt water hair spray, that creates volume and texture - the typical beach look.
Light hold with matte finish
Typical beach look
Gives hair natural volume and texture
Suitable for all hair lengths
Suitable for sensitive hair and scalp
Vegan
Key ingredients: Epsom Salt activates curls by neutralizing the excess negative charges on the surface of your hair's keratin, works to remove excess oil from the scalp and clears the buildup of hair products. Sea Beet provides treatment from the root to the tip of the hair, increasing volume, shine and suppleness and prevents oxidative stress premature hair aging and hair loss while Willow herb displays strong phytochemical and antioxidant properties great for acne-prone skin to reduce redness and irritation.
Scent: An earthy and woody aroma with slight notes of tobacco.
Triumph & Disaster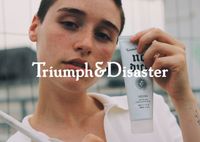 Triumph & Disaster aus Neuseeland ist eine moderne Apotheke und Hautpflege-Manufaktur, deren Produkte sich an den Säulen Ritual, Charakter und Schicksal orientieren. Gründer ist Dion Nash, ein ehemaliger Cricket-Profi, der die Marke nach dem Gedicht "IF" von Rudyard Kipling benannte, das er als Kind von seinem Vater bekam. Jedes Produkt hat einen maßgeschneiderten, natürlichen Duft, der an frühere Werte aus alten Zeiten erinnert. Die Philosophie ist es, effektive, sichere und nachhaltige Produkte mit Hilfe modernster Wissenschaft und den besten natürlichen Wirkstoffen zu ...Mehr
Show more from Triumph & Disaster
show all from Triumph & Disaster